Rwanda will face Central African Republic in the two sides' first Group A game at the upcoming U-20 African Men's Handball Championship due August 20-27 at BK Arena, in Kigali.
Eight participating teams have been grouped in two pools.
Hosts Rwanda are placed in Group A alongside Tunisia, Morocco and Angola, whereas Group B consists of Egypt, Algeria, Congo Brazzaville and Libya.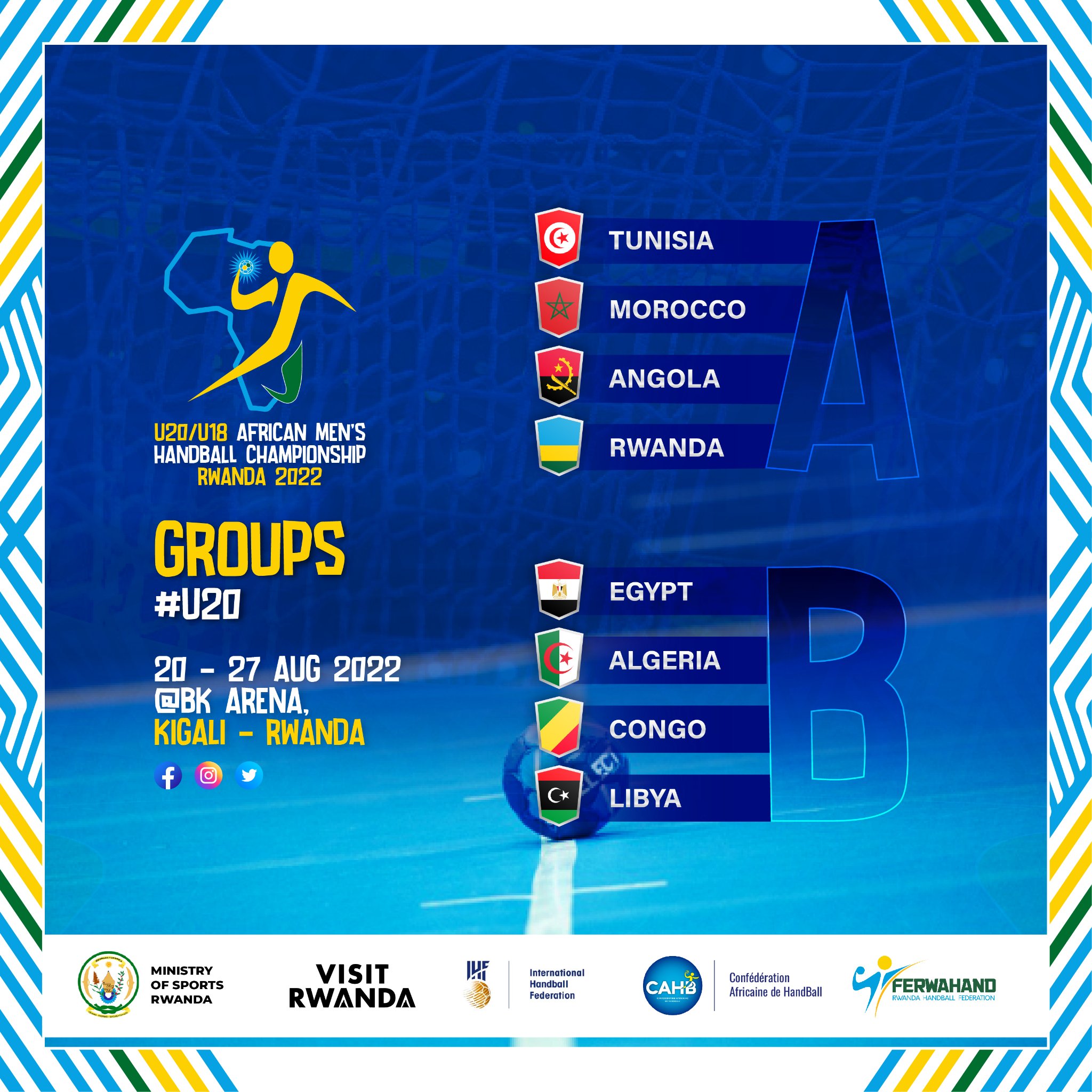 The Rwandan team, under the tutelage of Antoine Ntabanganyimana, will start their campaign against Angola this Saturday at 6 pm.
The group stage will run from August 20 to 25, after which the best two teams in each group will advance to the knockouts; semi-finals and the final.
The 7-8 and 5-6 position matches will be played on August 26, the same day as the semi-finals.
The tournament will serve as a qualifying competition for the 2023 IHF Junior Men's Wolrd Championship, taking place in Germany and Greece from June 20 to July 2.
The preliminary group stage will occur over five match days (20, 21, 22, 24, 25 August) with the top two teams in each group, after the round-robin stage, going directly into the semi-finals and confirm their Germany and Greece ticket.
The bottom teams in each preliminary group will move into the 7-8 placement match, with 3rd placed teams competing for 5-6 position on the same day as the semi-finals, on 26th August.
The bronze and gold-medal matches will be played on Saturday, 27th August, 2022.
Organizers will welcome spectators for a free entrance with proof of a full COVID-19 vaccination.
The complete group phase schedule:
Match Day One: 20 August (Local time):
5:00 PM: Opening Ceremony
6:00 PM: Rwanda vs Angola (Group A)
Match Day Two: 21 August
4:00 PM: Egypt vs Libya (Group B)
6:00 PM: Algeria vs Congo (Group B)
Match Day Three: 22 August
1:00 PM: Angola vs Tunisia (Group A)
3:00 PM: Libya vs Algeria (Group B)
5:00 PM: Egypt vs Congo (Group B)
7:00 PM: Morocco vs Rwanda (Group A)
Match Day Four: 24 August
1:00 PM: Congo vs Libya (Group B)
3:00 PM: Algeria vs Egypt (Group B)
5:00 PM: Morocco vs Angola (Group A)
7:00 PM: Tunisia vs Rwanda (Group A)
Match Day Five: 25 August
7:00 PM: Tunisia vs Morocco (Group A)